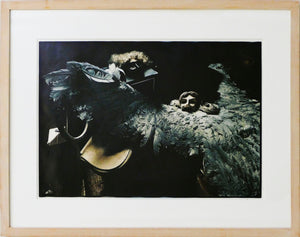 From the Series Ausencia 5, #1 of 25 measuring 16" x 20", framed
Rogelio López Marín (Gory) was born in Havana, Cuba and he lives and works in Miami, FL. He has a Bachelor of Fine Arts in Painting from the National School of Art in Havana and a Master of Art History from the University of Havana.

Considered a key figure of Photorealism in Cuban art of the end of the 70s, López Marín began his photographic career when he renounced painting after the "Volumen Uno" exhibition in 1981. 
Gory's work can be found in public collections including the Metropolitan Museum of Art, 20th Century Art Permanent Collection, New York, NY (painting), LACMA (Los Angeles Museum of Art) permanent collection, CA (photography), The Corcoran Gallery of Art (Corcoran's Permanent Collection of Photographs), Washington, DC, the Museum of Contemporary Photography, Columbia College, Chicago, IL, the Museum of Fine Arts, Houston, TX, the Museum of Art Fort Lauderdale, FL, MAM (Miami Art Museum), Miami, FL, Centro Wilfredo Lam, Havana, Cuba (photography), Museo Nacional de Bellas Artes, Havana, Cuba (painting and photography).

Links:

Museum of Contemporary Photography
Estimated price - $3,000
All prices are negotiable