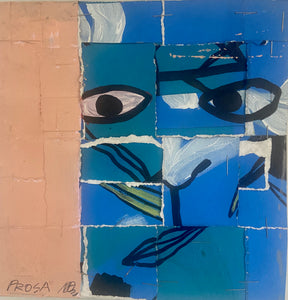 Prosa - fabulous, unique work by Noel Morera, done is his inimitable style, work is a mixed media collage. For this work the artist assembled together cut up pieces of other works creating this unique work. Prosa is done in the bright hues of his Southern Florida home.
This mixed media work measures 7.5" by 7.5 " and was executed in 2023. The work was acquired directly from the artist.
Noel Morera was born in Matanzas, Cuba in 1962. He studied at Scholl of Visual Arts, Academy San Alejandro, Havana from 1975-1979. Noel was a member of UNEAC and Taller de Artes Gráficas de la Habana. He is well known for his paintings and murals as well as his sculptures, set-designs, and polyptychs. Noel currently lives in Miami, Florida.
He has exhibited widely: Istanbul, Turkey - Madrid, Spain - Alabama School of Fine Arts, Birmingham, Alabama - Valencia, Spain - NY, NY