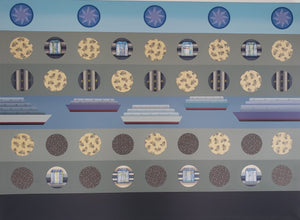 River Park Gardens by Carlos Rodriguez Cardenas.
A great work, aesthetically pleasing, in the inimitable Carlos Rodriguez Cardenas style.
River Park Gardens is an acrylic and fabric on linen, completed in 2013.  The work measures 49" x 67".
The artist gave this painting two titles. The back of the painting lists the tittle as Landscape #5.
This work was part of group of works donated to Cuba Art NY. This was was appraised by Alex Rosenberg in 2021.