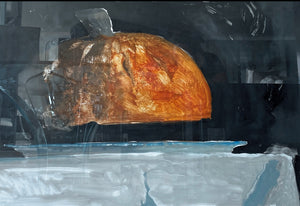 Amanecer(Sunrise) monotype print, 37" x 51", 1990-93, framed. 
Imaginative snapshots of Caribbean life are frequent subjects in the work of painter Julio Larraz. Larraz's interpretation are characterized by unique subtlety and a precise, detailed technique. Subjects in his works include political caricatures and persons from his childhood.
Julio Larraz is a Cuban born artist from Havana(1944). We are proud to offer his work "Amanecer".
Estimated price - $12,000
All prices are negotiable