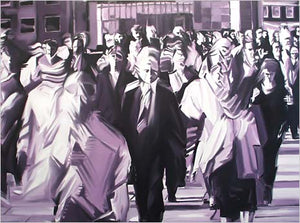 Dress code series
Oil on Canvas, measuring 56" x 74", executed in 2005.
Reflective, distorted surfaces create multiple layers of refraction and perspectival perversion in the paintings of Ofill Echevarria. His work appears to produce the effect of camera optics manipulating the photographic veracity of figures in motion, architectural reflections, and fragments of urban life. Actually, the effect is entirely invented by the artist with paint, and it is successful due to the very traditional means that inform every step of the process. A masterful, if covert, composer, Ofill subtly, perhaps imperceptibly, rearranges the world of the city until he achieves a new order of perceptual reality, disclosing only that which contributes to his personal aesthetic-his artistic interpretation of urban life.
Ofill Echevarria b. 1972 is a painter and multimedia artist based in New York City.
Ofill graduated from the San alejandro Academy in 1991. He was a founding member of the controversial Havana art collective Arte Calle.
Since 2001 Ofill has exhibited his work broadly all over Latin America and the United States, individually and participating in many international art fairs and group shows. His work are part of major public and private collections, among which are: Museo Nacional de Bellas Artes de La Habana; Museo Nacional de Arte de Mexico; Museum of Latin American Art (MOLAA)

Suggested price $9,000